NEWS
To follow my career, please become a fan on Facebook.
APRIL 2007
A FEW DAYS IN THE LIFE…

Kansas City has long been a favorite city to visit. It is a city that is rich in cultural history. In March, my etchings were included in the Historic Regionalist exhibit at the American Legacy Gallery in Kansas City, Missouri. The artists in the show were some of the most distinguished names in American art history. It was flattering and an honor to have been included in an exhibit containing largely printed works by Thomas Hart Benton, Grant Wood, John Stewart Curry, and others. It was especially enjoyable to see many works by accomplished American artists who do not have the same amount of name recognition as the above. Many of them are artists who worked in Kansas during the 1930s and 40s and were known as the Prairie Printmakers. Their work is in the same league as that of the better known names. It is difficult to convey the sense of excitement and delight to arrive at the gallery for the Friday evening opening, walk into the space and see my work, framed and hung alongside a group of American artists of such skill and renown. The opening was a wonderful experience, being able to visit with so many knowledgeable and interested print enthusiasts who were in attendance. The reception was followed by a delightful dinner and conversation with gallery owners Jack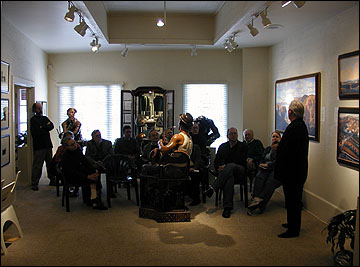 and Georgia Olsen at a restaurant in Kansas City's Brookside neighborhood. The feeling was idyllic as I returned to my hotel room and sat in solitude taking in the night lights of Kansas City and points beyond from my 27th floor catbird seat. On Saturday, The Friends of the Thomas Hart Benton house came to the gallery to visit with me, see the show, and send me off on my return trip to Wisconsin.

One of the fascinating aspects of exhibiting in galleries is the fact that each one has its own personality. There is no such thing as a "cookie cutter" gallery. Much of the excitement is a result of the process of getting to know them and doing business with them. The show in KC opened on Friday, March 16th. I left my studio in Blue Mounds on Wednesday, March 14th, at noon with a full itinerary of stops at different gallery venues that exhibit my etchings. On Wednesday, after working in a somewhat frenzied state in my studio (for the past several days) to have artwork ready for delivery on this trip, I drove to Marion, Iowa, home of Campbell Steele Gallery. That stop was followed by an appointment with the curator at the Cedar Rapids Museum of Art. Sean Ulmer liked my work, graciously accepted my apology for changing the appointment time at the last minute, and said he would like my work for the collection. But will they collect it? The coming months should tell the tale. The truth be known, I am not a household name in the art world. I have always taken pride in doing good work, but most often I must get out and seek the audience for my etchings. Spending an hour going through the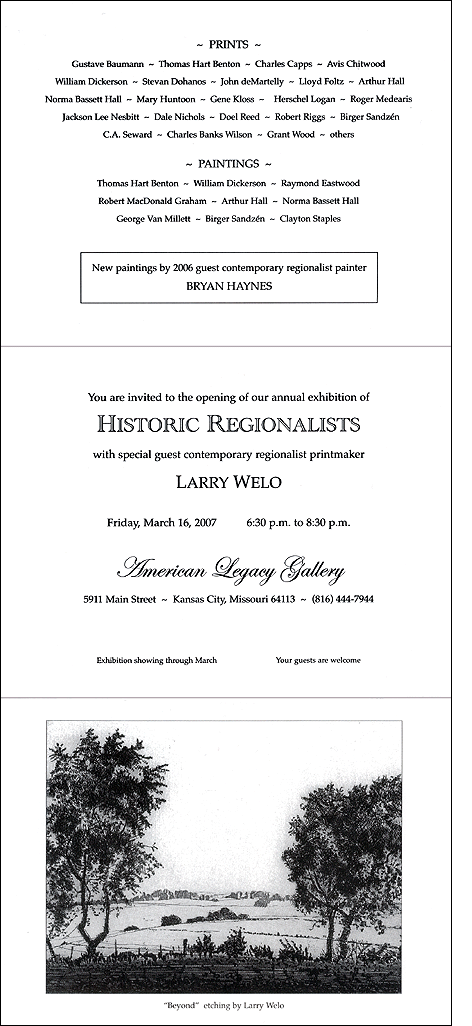 fascinating exhibit "Midwestern Visions" at the Cedar Rapids museum, I glanced at my watch, made a phone call, and headed for Iowa City and Iowa Artisans Gallery, 45 minutes away. I had work ready to deliver, but they would be closing within an hour and a half, not leaving me very much time to find parking, unload, and do the preliminary inventorying in of my work. The galleries that represent my work are important to me. I love them, and they are in many ways at the center of my universe. I want to convey that to them when I visit and not be in a rush. I could have visited Iowa Artisans Gallery on Sunday during the return trip, but efficiency was on my mind, and I wanted to have a more relaxed drive home. Leaving Iowa City, I jumped onto I-80 and was off to Des Moines a couple of hours west and a place to lay my head for the night via Hotwire.com. A scrap of remembered paper in the pencil case of my inventory notebook gave me directions to a neighborhood restaurant in Des Moines and dinner. (Scraps of paper are easily forgotten except when it comes to directions to good food. A Des Moines collector gave me the scrap several years ago and I held on to it.). Eventually checking into my hotel, I took time to unwind by going through the inventories of work that I had delivered that day. Uh oh. I had incorrectly priced two framed pieces for Campbell Steele. I also had made an error at Iowa Artisans. Campbell Steele could be corrected by telephone. Iowa Artisans, however, required that I return to the gallery on Sunday to exchange work that I had delivered. Ben Franklin and something about haste went through my brain as I drifted into unconsciousness.

Thursday morning found me at 2AU in West Des Moines delivering and exchanging work as Sarah was opening the doors to the public. Back on I-80, I continued to Lincoln, Nebraska and So Oh Fine Art. So Oh is one of my newest galleries. In case you are wondering, it is located south of O Street, hence the name. (My relationship with So Oh Fine Art is connected to my relationship with American Legacy Gallery in Kansas City…that will be fodder for future news.) From Lincoln, Kansas City, American Legacy and my downtown hotel was only a few hours drive away. Arriving at dusk, I was happy to learn that I would be on the top floor…a view. I retired to my room and was able to relax, unwinding and gazing out the window at the Kansas City urban landscape with the state of Kansas gloaming in the distance. I thought about American Legacy Gallery and the coming Friday evening opening. I thought about orchestrating the trips that I take, the exhaustion and invigoration that ironically seem to go hand in hand, wondering if my fifty- something body can do this indefinitely. "Yeah, it can," I thought. "It has to." The view that evening seemed to make it all worth the effort.

American Legacy Gallery is on Main Street in Kansas City, which would conjure the image of a bustling urban thoroughfare. South of downtown and south of the Country Club Plaza, however, Main Street becomes less of a thoroughfare, streets change names, and if you were not looking specifically for the gallery, you probably would not find it. Some places simply become known to their clientele and being on a bustling thoroughfare is of less importance. There is something that I admire about places like this, places that have done and continue to do the legwork so they do not seem to need to be on the web and do not need to be out where everyone can see them. They are a treasure to be discovered.

Leaving the gallery and KC on Saturday afternoon, my mind was filled with thoughts about the events of the past few days, the culture of Kansas City…not only the visual arts that I had such a great dose of, but also the likes of Charlie Parker, Lester Young, Big Joe Turner, Mary Lou Williams to name a few. I also thought about Buck O'Neil (1911-2006), Satchel Paige, Cool Papa Bell, Josh Gibson, the Kansas City Monarchs …I drove to Des Moines and another hotel room, a bike ride through Des Moines on Sunday morning (I had thrown my bicycle into the back of my van as I left my Blue Mounds studio), and my drive home, which brought another stop at Iowa Artisans (to correct my aforementioned mistakes), a revisit to "Midwestern Visions" at the Cedar Rapids Museum of Art, dinner with my friend Hugh Pettersen of Henry W. Myrtle Gallery in Cedar Falls and home by ten thirty.

By the time you read this, the Historic Regionalist show will be over in KC. If you are in Madison, Wisconsin, however, I would recommend visiting Harvest, a restaurant on Capitol Square. My work will be on exhibit there from April 28th through the end of July and possibly points beyond. The exhibit will open on April 28th with a public reception at the restaurant from 11am until 2pm.